Components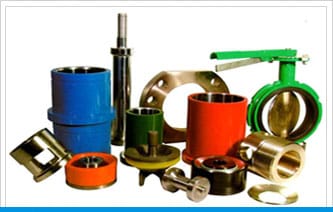 To ensure the smooth operation of our customers' equipment, PetroEngineering LLC supplies the necessary components, spare parts, tools and accessories.


Thanks to long-term cooperation and well-established relations with leading equipment manufacturers, both in Russia and abroad, PetroEngineering LLC makes it as easy as possible for the Customer to solve this usually laborious task.
LLC "PetroEngineering" supplies spare parts for the following oilfield equipment of foreign and domestic production:
Top Power Drives
Drilling Swivels
Mobile drilling rigs
Mud pumps
Cleaning systems
Hydraulic and Pneumatic Drill Tongs
Blowout prevention equipment
Hydraulic power units
Drawworks
Elevators
Pneumatic wedge gripper (RCC)
Centrifugal pumps
Diesel powertrains
Towing systems
---
IMPORT SUBSTITUTION
Thanks to the accumulated experience, professionalism of our specialists and close cooperation with manufacturing enterprises, we are able to quickly design and manufacture almost any spare parts for imported equipment, based on the needs of the Customer.
Interested in shortening the delivery time and reducing the final cost of the supplied products, PetroEngineering LLC is constantly increasing import substitution of popular spare parts for foreign equipment.

LLC "PetroEngineering" supplies the Customer in the shortest possible time and on the most favorable terms for him all the necessary components and spare parts not only for modern equipment, but also for equipment used by the Customer, but out of production.